Charity Event Venue in Phoenix, AZ
La Princesa's Extravagant Charity Event Venues
A charity event is about having a wonderful time raising money for amazing causes. La Princesa provides the perfect charity event venues in Phoenix, AZ that allow you to sit back while we handle the planning. Our three gorgeous charity event locations ensure your gala is memorable. No matter the size of your charity event, we can accommodate it. We're committed to providing outstanding accommodations and services for all types of charity events. We've hosted thousands of events and planned the perfect nights for organizers for over ten years. Contact us to learn more about our party event venues and all-inclusive packages.
Amenities and Services at La Princesa
We'll work with your outside vendors or invite you to use our reliable vendors. Ask about our all-inclusive charity event packages to learn more. We have a wide range of preferred vendors and can recommend great options for the following:
Catering
Service personnel
Event coordination
Choreography
Mariachi
Transportation and Limousines
Cakes
Decoration
DJs
Photo Booths
Flowers
Photography and Video
Our amazing amenities include:
Audio and Video Access
Cushioned Banquet Seating
Elevated Stage
Monitors for Slideshows
Professional Security
60" Round Tables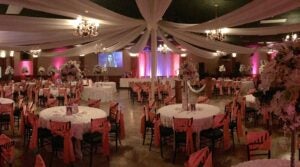 Three Spaces to Accommodate Your Charity Party
La Princesa has three party venues in the Phoenix area. Our West Phoenix venue is near the Grand Canyon University Golf Course, our North Phoenix venue is adjacent to the Metrocenter, and our Central Phoenix venue is near Glenview College Prep High School. We can accommodate any size and type of charity event at any location.
La Princesa Welcomes Any Event Type
La Princesa is always ready for a party. We love to host any type of celebration in our stunning reception halls. We host weddings, Quinceañeras, birthday parties, Bar and Bat Mitzvahs, family reunions, and more. Whether you have 5o guests or 600 guests, our consultants are excited to help plan your next event. We pride ourselves on offering reputable and established vendors or welcoming your chosen vendors for the event. We're ready to help transform our event venues into the ones in your dreams.
Taking Pride In Memorable Experiences
You join our family when you hold a charity event at one of La Princesa's event venues. We take pride in delivering memorable experiences to our family members. We want your guests to feel like royalty, surrounded by the beauty of our venue with stellar customer service. We love seeing the smiles on guests' faces and feeling positive that you've planned a lovely charity event. Welcome to our La Princesa family!
Why Choose La Princesa for Your Charity Event?
We want your charity event to be the talk of the town. We set ourselves apart with superior customer service and excellent venues. Don't let the stress of planning a charity event overwhelm you when you have professionals ready to accommodate your needs. We offer flexible scheduling, affordable pricing, and multiple amenity options. Whether you want to hold an intimate charity gathering or a large charity gala, we're here for you.
Contact La Princesa Today
La Princesa has worked with thousands of clients to stage many different types of events. Our goal is to ensure your charity event is hassle-free, so you can enjoy the time having fun and celebrating the occasion. We can handle all the vendors and details. Contact us today to learn more.
Why Choose Us?
Onsite Security Teams Available
Wedding Parties BIG or Small
Don't Restrict Outside Vendors
Accommodate Most Time Schedules
Established Relationships with Multiple Vendors