Indoor Wedding Venue in Phoenix, AZ
La Princesa's Indoor Wedding Ceremonies
One of the most essential parts of planning your wedding is finding the perfect wedding venue. La Princesa provides a picturesque location for stunning indoor wedding ceremonies in Phoenix, AZ. We offer three signature wedding reception and ceremony locations located in Phoenix. Our team of experts can accommodate any size of wedding. Whether you need a space for 600 guests or want an intimate gathering, our indoor ceremony locations offer the perfect answer. We can provide your amenities or recommend local vendors through our established relationships. We're excited for you to see all we have to offer in our indoor wedding halls.
Indoor Wedding Ceremonies
La Princesa's wedding ceremony locations offer a breathtaking setting, welcoming staff, and multiple amenities to fit your needs. We'll work with you or your wedding planner to ensure your wedding ceremony is perfect for the happy couple. Our team works around the clock, ensuring the wedding hall is immaculate and sparling for your big day. The most important thing about your wedding ceremony is that our indoor space makes you feel special on one of the biggest days of your life.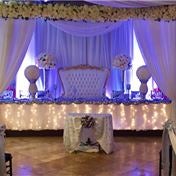 Indoor Wedding Receptions
After the wedding ceremony, it's time to celebrate the special couple at one of our three indoor wedding reception halls. We exceed expectations with our large area for seating, professional catering services, dance floors, and many music and entertainment options. We have it all from personalized decorations and elevated stages to large 60″ round tables and professional security. We can accommodate any type of wedding reception's fun and games. We're here to ensure your wedding reception is one of your dreams.
Indoor Wedding Amenities
Our signature wedding venue services are offered in multiple ranges, including:
Audio and Video Access
Wedding Vendor Assistance
60″ Round Tables
Cushioned Banquet Seating
​Elevated Stage
Professional Security
Outstanding Vendor Selections
We'll happily partner with your outside vendors or recommend our vendor partners. We can provide the best recommendations on:
Catering
Event coordination
Transportation and Limousines
Cakes
Photography and Video
Flowers
Service personnel
Choreography
Mariachi
Decorations
DJs
Photo Booths
All-Inclusive Wedding Packages
One of the best things about choosing La Princesa for your indoor wedding is we allow outside vendors. If you want to bring in your favorite food for catering or a particular DJ, we welcome them with open arms. We've also established long-term partnerships with local vendors to offer all-inclusive event packages. We have you covered if you need the perfect flowers, catering, photography, event transportation, and more. Our team is committed to taking the stress of wedding planning off your hands.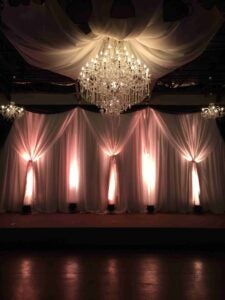 Why Choose La Princesa for Your Indoor Wedding?
La Princesa is passionate about providing exceptional customer service in our beautiful indoor wedding venues. We take care of minor and minor details to ensure your wedding is full of celebration and love. We pride ourselves on creating amazing and memorable events for you. We offer affordable pricing, flexible scheduling, all-inclusive event packages, and multiple locations.
Contact La Princesa Today!
The team at La Princesa is always excited to share special days with our clients. You become family when you plan an event with us. We understand wedding planning can be overwhelming, so we're committed to helping it go as smoothly as possible. All you need to do is put together a guest list and let us handle the equipment, seating, security, food, and more. Contact us today and check our Wedding FAQs for more information.
Why Choose Us?
Onsite Security Teams Available
Wedding Parties BIG or Small
Don't Restrict Outside Vendors
Accommodate Most Time Schedules
Established Relationships with Multiple Vendors