Communion Party Packages in Phoenix, AZ
The Communion Party Planners You Can Count On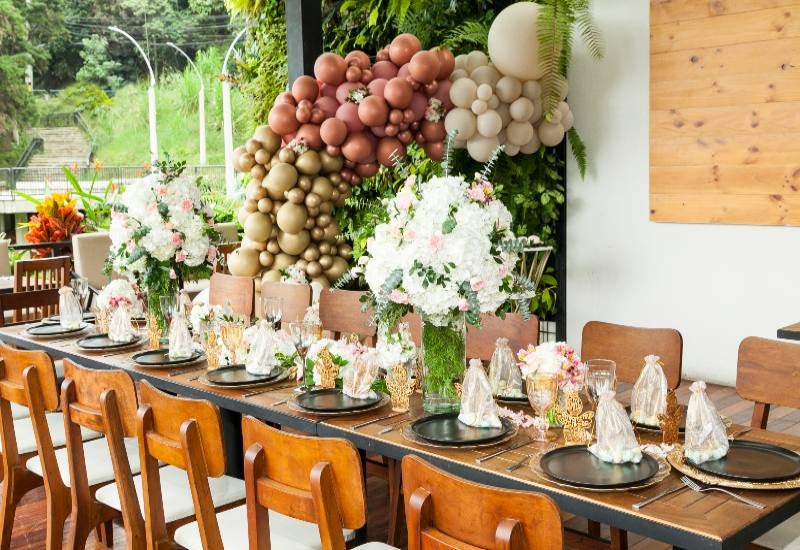 Celebrate a cherished religious milestone with elegance and grace at La Princesa, the premier event venue in Phoenix, AZ. Our communion party packages are designed to honor this significant occasion with utmost care and attention to detail. From exquisite decorations to delectable menus, our dedicated team is committed to creating a memorable and meaningful experience for you and your loved ones. Contact us today to secure your reservation with La Princesa.
What Is a Communion Party?
A communion party is a joyous celebration that marks an important religious milestone in the Christian faith, specifically in Catholic and some Protestant denominations. It typically takes place after a child or young person has received their First Holy Communion, a sacrament where they partake in the Eucharist, symbolizing their acceptance of the body and blood of Jesus Christ.
The communion party serves as a joyful gathering of family, friends, and loved ones to honor and celebrate this significant spiritual event. It provides an opportunity to come together in fellowship, share in a special meal, and express love and support for the individual who has received the sacrament. It is a time of gratitude, reflection, and joy as the community surrounds the communicant with blessings and good wishes for their spiritual journey.
Invitation Ideas for the First Communion Party
By selecting an invitation style that reflects the tone and significance of the First Communion, you can set the right expectations and create anticipation for this momentous occasion. Here are some invitation ideas for a First Communion party:
Photo Invitation – Include a cherished photo of the child who will be receiving their First Communion on the invitation. This personal touch adds warmth and allows guests to see the individual at this significant moment in their spiritual journey.
Floral Invitation – Use floral motifs and delicate patterns to create a soft and inviting invitation. Incorporate flowers such as lilies, which are often associated with the sacrament of First Communion to symbolize purity and beauty.
Scripture Invitation – Select a meaningful Bible verse that relates to the significance of the First Communion and include it on the invitation. This adds a spiritual touch and sets the tone for the celebration.
Cross-Shaped Invitation – Create an invitation in the shape of a cross, which is a powerful symbol of faith and redemption. This unique and eye-catching design will immediately convey the purpose of the gathering.
First Holy Communion – Baptism Event Services
Celebrate the sacred moments of First Holy Communion and baptism with our exceptional event services. Our range of carefully curated services includes:
Guest management
Entertainment planning
Baptism venue decor
Baptism stage decoration
Essential decor props
Food arrangement
Unique Theme Ideas for the Holy Communion Party
Unique First Communion party ideas can offer a fresh perspective for your Holy Communion party, allowing you to infuse creativity and symbolism into your celebration. Elevate your Holy Communion party with these themed ideas for First Communion decorations:
Garden of Faith – Embrace the beauty of nature by hosting a garden-themed celebration. Incorporate blooming flowers, rustic elements, and natural decor to symbolize growth, renewal, and the blossoming of faith.
Fruits of the Spirit – Focus on the virtues and fruits of the Holy Spirit with a themed party highlighting qualities such as love, joy, peace, patience, kindness, goodness, faithfulness, gentleness, and self-control. Incorporate fruit motifs, vibrant colors, and interactive activities that encourage reflection on these important spiritual values.
Ocean of Grace – Dive into a nautical-themed Communion party that reflects the vastness and depth of God's grace. Use shades of blue and white, incorporate seashells, anchors, and sailboat decorations, and consider serving seafood-inspired dishes to enhance the maritime ambiance.
Holy Land Journey – Take guests on a virtual journey to the Holy Land by creating different stations representing significant biblical sites. From Bethlehem to Jerusalem, each station can showcase unique decor, traditional foods, and educational elements to provide a deeper understanding of the religious context.
Faithful Fiesta – Combine faith and festivity with a vibrant and lively fiesta-themed celebration. Incorporate colorful decorations, traditional Mexican elements, and festive music to create a joyful and celebratory atmosphere.
Why Choose La Princesa?
At La Princesa, we understand the significance of a communion and the desire to celebrate this sacred event with reverence and joy. Our communion party planning packages are crafted with meticulous attention to detail, ensuring an elegant and meaningful gathering.
Contact Our Communion Party Organizers in Phoenix Today!
Contact us today to reserve your spot at La Princesa and embark on a journey of celebration and spiritual significance as you honor your communion in a truly exceptional setting. We also help with planning and hosting all other types of events, including quinceañeras, corporate events, charity fundraisers, and more!
Why Choose Us?
Onsite Security Teams Available
Wedding Parties BIG or Small
Don't Restrict Outside Vendors
Accommodate Most Time Schedules
Established Relationships with Multiple Vendors