Wedding Reception Halls in Phoenix, AZ
Ask Us Your Questions About Booking a Wedding Reception Hall
Finding the perfect place to hold your wedding is exhilarating. However, as you sort through your options, it can become challenging as well. There's a lot to consider, from the size of the space to the policy on alcoholic drinks. At La Princesa, we believe choosing your wedding venue should be the easy part of planning your ceremony and reception. That's why we've compiled a list of our most frequently asked questions to make your search for a venue quick and easy. If we don't address your concern below, feel free to contact us for more information!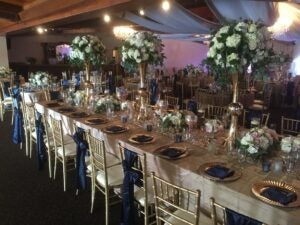 Where Are the La Princesa Reception Halls?
La Princesa's wedding reception halls can be found at three different locations throughout Phoenix. Each venue is perfect for holding your wedding reception or staging other events such as birthdays, anniversaries, and other celebrations. We have one location in West Phoenix within very close proximity to Route 60. You'll find another venue in Central Phoenix, close to Glendale and Glenview College Prep High School. Our third location is nestled in North Phoenix, just a short drive from I-17 and Metrocenter. Our North Phoenix location is truly in the center of everything! No matter which venue is closest to you, we're excited to hear from you and start planning your event.
How Much Does Booking a Hall Cost?
Booking a wedding reception hall at La Princesa is an exciting experience. However, it's rarely one-size-fits-all. When calculating how much your reception will cost, we'll need to account for some details. Some wedding parties prefer large-capacity halls, while others opt for intimate settings. Moreover, you might want a large dance floor, gourmet catering, or equipment for an audio/visual presentation. We'll take all this and more into account as we come up with an estimate for your reception. You can rest assured this cost will be all-inclusive and cover every detail!
What Services Are Included in the Rental Fee?
When you rent a space at La Princesa, you'll get plenty of bang for your buck. Our team wants to make sure you have the wedding reception of your dreams, so we include a wide range of services with your rental fee. You'll have the option to take advantage of a broad selection of amenities to fill your reception space. We provide 60" round tables, cushioned banquet seating, an elevated stage, and access to audio/visual equipment. We'll even help you work with wedding vendors and provide an experienced security team to monitor your event.
How Do I Cancel a Booking?
If you need to cancel a booking at our wedding reception halls, don't hesitate to let us know. Our staff is friendly and understanding, and we'll work hard to accommodate you. When you make your initial booking, be sure to ask about our cancellation policy, how long before the event you need to cancel, and any potential fees.
Are There Any Restrictions?
Our experienced staff will make you aware of any restrictions well before your wedding reception date. This could include off-limits spaces in our facility or the number of guests our wedding reception halls can accommodate at one time. Once we hear your plans for your big day, we'll better be able to let you know about any applicable restrictions.
Will Other Events Be Scheduled on the Same Day?
While every once in a while, we may have two events scheduled for the same day, our staff takes the utmost care to ensure the events never overlap. We'll be sure to have your space set up and ready to go for you as soon as you're given access. At La Princesa, we've staged over 3,000 events, and we're seasoned professionals in the planning business. When you book with us, you can rest assured your event will go smoothly.
What Is Your Alcohol Policy?
Alcohol is allowed at our venues in Phoenix, AZ. Our team is dedicated to upholding the Arizona liquor laws down to the letter. That means we only serve alcohol within the designated times and to guests who are of the appropriate age. Ask our staff for more details on our alcohol policy or your other catering needs.
Why Choose Us?
Onsite Security Teams Available
Wedding Parties BIG or Small
Don't Restrict Outside Vendors
Accommodate Most Time Schedules
Established Relationships with Multiple Vendors