Quinceanera Hall by La Princesa in Phoenix, AZ
La Princesa Event Venue in Phoenix, AZ
La Princesa is Phoenix's leading event venue. Our mission is to help you stage beautiful, memorable events for all your milestones. We have three convenient locations across Phoenix to choose from, and various services and packages to facilitate your event and make it stand out for a fairy-tale night. We handle every angle, ensuring a thoughtfully curated evening.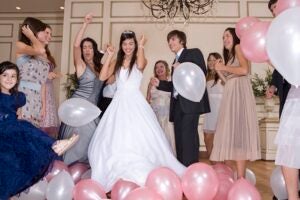 Our Quinceanera Hall & Quinceanera Event Planning
At La Princesa, we understand the significance of your Quinceanera. We pour our heart and experience into planning your event to include every detail you desire. Our halls provide a beautiful atmosphere for you and your guests, with careful attention to detail and plenty of services and rental options to make your night memorable.
Event Planning With La Princesa
A Quinceanera can be a big job to plan on your own, but our professionally trained planning experts are here to help you with every detail. Provide us with your list of requirements for your event, and we will liaise with vendors to satisfy every detail you want to be included in your special night.
Our Services and Rental Options
Every Quinceanera requires different amenities to make the night suitable for the guest of honor. La Princesa offers a wide range of services and rental options to satisfy your needs, from dance floors to audio and video access for entertainment. We work with trusted vendors to secure the best catering, DJ, decorations, event coordinators, and more.
 Our Most Popular Quinceanera Amenities
A Quinceanera is unique, and it's vital to have entertainment features. Perhaps a dance floor and DJ to dance the night away? A photo booth or a photographer is a fantastic addition to document this special night, and don't forget gorgeous flowers and decorations to make your 15-year-old feel like the princess she is!
 All Inclusive Packages
At La Princesa, we strive to make your Quinceanera dreams a reality. We work alongside our guests from inspiration to completion to ensure it's everything they want and more. We offer all-inclusive event packages to eliminate the stress of booking all your services separately and ensuring your event is well coordinated.
 Quinceanera Venues
We have three lavish Quinceanera venues in Phoenix for you to choose from. Our ballrooms for Quinceaneras are equipped to handle parties of up to 600 guests. Our venues are well kept, providing stunning ambiance and all the latest amenities, complete with friendly, experienced event staff for a guaranteed perfect evening.
All our sites are centrally located and accessible by main roads, providing plenty of safe parking spaces for your guests. Each location offers the same services and amenities, so you don't have to compromise!
 La Princesa Guarantees a Stress-free Event
La Princesa has served the Phoenix community for nearly 10 years with our gorgeous event venue and high-quality event planning services. We ensure you feel like family when you meet with us to plan your events. You deserve to enjoy your event just as much as your guests, so allow us to do the heavy lifting.
Why You Should Choose La Princesa
We are the trusted experts for event planning in Phoenix. We ensure all your needs are covered so you can enjoy a night of celebration, laughter, and fun. We offer affordable services and all-inclusive packages, and flexible scheduling options. Creating a perfect, memorable evening is our specialty, and our detail-oriented team will exceed your expectations.
Contact La Princesa for Your Quinceanera Hall
If your loved one is turning 15 this year, La Princesa is here to ensure her Quinceanera is nothing short of an enchanting evening. Our event planning experts are here to answer all your questions and concerns and plan your event. Contact us today for more information or to schedule your event!
Why Choose Us?
Onsite Security Teams Available
Wedding Parties BIG or Small
Don't Restrict Outside Vendors
Accommodate Most Time Schedules
Established Relationships with Multiple Vendors