Bridal Showers With La Princesa in Phoenix, AZ
 Welcome to La Princesa
La Princesa is one of Phoenix's most elegant event venues. For more than 10 years, our team of professional event planners have created memorable events for various types of celebrations. Our team is kind, attentive, and highly experienced in curating high-class events for a fraction of the cost of our competitors.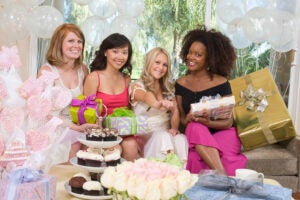 Bridal Showers With La Princesa
Your date is set, and you're ready to celebrate finding the love of your life. La Princesa wants to help you do just that in one of our lavish bridal shower venues. It's your special day, and you deserve features and services that will cater to you, so you can sit back and enjoy your celebration with your guests.
Indoor Bridal Shower Venue
 La Princesa offers three picturesque venue locations in West Phoenix, Central Phoenix, and North Phoenix, each conveniently located off main roads with plenty of parking spaces. Our gorgeous and accommodating bridal shower venues are equipped to comfortably fit anywhere from 50 to 600 guests. We also offer various services and packages to create an incredible event.
Outdoor Bridal Shower Venue
La Princesa's three stunning locations also offer outdoor bridal shower options for our brides who want to celebrate their day outside in the sunshine. Our indoor wedding and outdoor wedding venue spaces are breathtaking, accommodating, and a perfect place for pictures and videos documenting your event.
Individualized Bridal Shower Services
The possibilities for your bridal shower at La Princesa's event venues are endless. We provide a long list of services to amplify your bridal shower experience. Our professional event planners work to discover all your specifications and desired services, from catering and hosted bars to games and activities. La Princesa has a local vendor on call for all your needs.
All Inclusive Package Options for Your Wedding Shower
Many aspects go into planning your perfect bridal shower, and La Princesa is an expert in them all. We partner with Phoenix's best vendors to create individualized all-inclusive packages for our customers, ensuring every detail of the day is perfect. No request is too big or too small. Let us know what you need, and we will make it happen.
We Bring Your Vision to Life
A beautiful bridal shower is something La Princesa believes every bride deserves. We love to sit with our brides-to-be and discuss their hopes for their event. Once we understand your vision, we work diligently to ensure you have all the services and vendors you need to create an unforgettable event for you and your guests. 
Our Affordable Venues and Services
The process leading up to a wedding can get expensive quickly. At La Princesa, we work with your budget to fulfill your wishes. We never want a bride to compromise on her special day due to finances, so we combat this problem by finding affordable options for your desired services. As industry experts, we can make magic happen!
Our Courteous Event Planners
Our team of attentive event planners is here for your bridal shower planning from start to finish. We want to make you feel like royalty on your day, which starts the minute you walk through our doors to plan your event. We will handle all your party requirements before and during the event so you can celebrate your day hassle-free.
What Makes La Princesa Different
At La Princesa, we customize our party planning experiences at our beautiful venue to suit each bride's custom requirements. Our friendly and diligent staff take all necessary measures to ensure your event is an entertaining, stress-free experience for you and your guests while staying true to your budget.
Contact La Princesa for Your Bridal Shower
 If your big day is on the horizon, it's time to plan your luxury wedding shower with our experienced team at La Princesa. Allow us to host you at one of our gorgeous venues and plan your whole day to your liking. Contact us today to discuss your bridal shower or schedule an event with us.
Why Choose Us?
Onsite Security Teams Available
Wedding Parties BIG or Small
Don't Restrict Outside Vendors
Accommodate Most Time Schedules
Established Relationships with Multiple Vendors