Hold a Memorable Wedding Ceremony at La Princesa in Phoenix, AZ
La Princesa's Exceptional Wedding Ceremony Venues in Phoenix
A wedding day is a joyous occasion for a couple and their friends and family. At La Princesa, we welcome the chance to help you celebrate this special day. Our three venues are located in some of Phoenix's most scenic areas, and our friendly staff will help you create a beautifully memorable wedding ceremony. La Princesa's venues can accommodate weddings of all sizes, and our staff will work with you to line up essential services like catering, photography, decorations, and transportation. We're also happy to work with your wedding planner. If you're interested in venues for the wedding ceremony only, without a reception, we can certainly help with that as well. Let us help you create the perfect setting for you to say, "I do." Contact us for details on our wedding ceremony venues and how La Princesa's staff can help you take the stress out of planning your special day.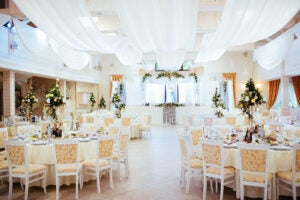 The Wedding Ceremony of Your Dreams
When a couple decides to tie the knot, some of the many decisions they face involve the ceremony itself. Who will officiate? What will the altar or wedding arch look like? Will you and your spouse-to-be write your own vows? Many brides and grooms have specific wishes for the wedding ceremony, and our staff is committed to helping each couple have the ceremony they've always wanted. Our experienced team wants to make your wedding day spectacular, and one of the key components of a successful day is a well-planned ceremony. When you work with us, we'll work tirelessly to be sure your wedding ceremony lives up to your dreams.
Ideal Wedding Ceremony Venues for Any Season
Whether you're interested in a big, traditional spring wedding or an intimate winter wedding, La Princesa's locations provide the perfect place for your nuptials. Our three versatile venues can provide inside or outside sites for your wedding ceremony. The Knot reports that nearly 80% of weddings occur between May and October, with June, August, and October being the busiest months. No matter what time of year you want to get married, our staff will work with you to plan a beautiful ceremony.
Service You Can Count On
At La Princesa in Phoenix, AZ, we're committed to providing outstanding service so you can enjoy your wedding day without worrying about things like having enough guest chairs or how to hook up equipment for audio or video. Whether you're searching for a wedding ceremony-only venue or are looking for a hall that can host both the ceremony and reception, La Princesa can help you plan and design an amazing wedding. We've established relationships with reliable, proven vendors in the Phoenix area, so we can assist you in finding any type of wedding service, from DJs to wedding ceremony decorations.
Why Choose La Princesa for Your Wedding Ceremony?
Over the past decade, our staff has worked on more than 3,000 events. When you work with La Princesa, you can rely on receiving superior customer service from experienced event planning professionals who are familiar with weddings and other special occasions. With three locations to serve you, we offer a wide range of spaces suitable for your wedding ceremony. Our goal is to make your big day incredible, and we'll work hard to make it as stress-free as possible.
Contact La Princesa
With three lovely locations to choose from as well as a dedicated and professional staff, La Princesa is one of Phoenix's premier event venues. We can provide distinctive spaces for wedding ceremonies and receptions, anniversaries, and other special events. Contact us today for more information about our facilities and services.
Why Choose Us?
Onsite Security Teams Available
Wedding Parties BIG or Small
Don't Restrict Outside Vendors
Accommodate Most Time Schedules
Established Relationships with Multiple Vendors