Hosting Special Wedding Anniversaries at La Princesa in Phoenix, AZ
Make Your Next Wedding Anniversary a Celebration
Special wedding anniversaries deserve a celebration with family and friends, and La Princesa provides everything you need to make milestone wedding anniversaries into unforgettable events. With three locations in Phoenix, our customers can choose the venue that works the best for their event. Our friendly and helpful staff will work with you to find a caterer, set up transportation, hire a DJ, decorate, and more. Whether you're envisioning an intimate party or a large event with hundreds of people, La Princesa can accommodate your event and make it a smashing success. Contact us for more information on our services and venue locations.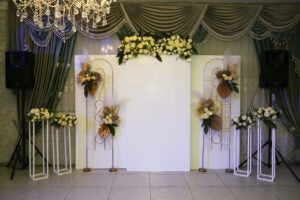 How La Princesa Can Make Your Event Fun and Memorable
If you've got big ideas for your wedding anniversary, our staff is here to help breathe life into those plans. Let us help you with games, a dance floor, a photo booth, and perhaps even a limo for the couple. If you've looked into symbols for wedding anniversaries, you may have a theme in mind. Are you planning a silver wedding anniversary celebration? Work with our team to decorate the venue with a wonderland of silver to honor its 25th anniversary. No matter what you've pictured for your event, we're committed to helping you make it a reality.
The La Princesa Guarantee for Your Wedding Anniversary
We guarantee that we'll work diligently to ensure your event turns out the way you imagined it. We know milestone wedding anniversaries are one-time opportunities to honor a couple's love and commitment to each other, and we'll go the extra mile to make sure your special day is filled with nothing but cherished memories. An event like a silver wedding anniversary only happens once, and it deserves a five-star celebration. La Princesa's staff is dedicated to turning your wedding anniversary plans into an event that your friends and family will remember for years.
What Services Does La Princesa Provide?
At La Princesa, we've developed relationships with high-quality vendors in the Phoenix area that we've worked with over the years. We can connect you to vendors who provide:
Catering
Cakes
Decoration
Service personnel
Event coordination
Transportation and limousines
Choreography
Mariachi
DJs
Photo booths
Flowers
Photography and video
We can also work with any outside vendors you'd like to use.
When you're planning an event with us, our team will work with you to ensure you've got all the important points taken care of, from the food to the flowers. Contact us to get additional details on any of our services, our venues, or our professional event planning services.
Why Choose La Princesa For Your Special Occasions?
La Princesa in Phoenix, AZ, is a dedicated events venue, and our experienced staff is familiar with all the elements needed for an unforgettable, fun-filled event. You're not just renting a space when you work with us. You're getting a full-service events venue that can offer you a range of services to make your celebration exceed your biggest expectations. We offer three venues to choose from, and we can accommodate parties of up to 600 people. Planning and hosting an event doesn't have to be stressful—let us help with the details so you can focus on the joyful occasion you're celebrating.
Contact La Princesa
If you're planning a wedding anniversary celebration or any other special event, contact La Princesa to get information on our three locations and the services we provide. Our spaces are perfect for wedding anniversaries, weddings, quinceaneras, and corporate events. Contact us today to discuss availability or to pick a time to see one of our locations in person.
Why Choose Us?
Onsite Security Teams Available
Wedding Parties BIG or Small
Don't Restrict Outside Vendors
Accommodate Most Time Schedules
Established Relationships with Multiple Vendors