Exquisite Phoenix Quinceañera Venues
La Princesa Provides Quintessential Quinceañera Venues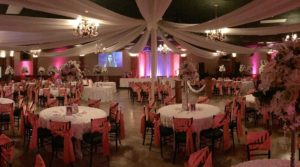 La Princesa is proud to provide the preferred Quinceañera venues of Phoenix, AZ. We recognize how momentous quinceañeras are. A girl only gets one, so it must be memorable. The friendly staff at each of our quinceañera banquet halls is committed to creating a customized event for each girl. We consider every detail to create perfect coming of age birthday parties. In addition to providing beautiful event spaces, La Princesa will also connect you with a host of vendors to help you coordinate all of the amenities necessary to complete your wish list. Our team has hosted more than 3,000 events over the last 10 years, but none have been more important than our next. Call us today so that we can help you arrange a dream quinceañera for the one you love.
Quinceañera Venues Will Provide Everything You Need
The first stage of quinceañera planning is finding the perfect venue. Everything else is secondary. La Princesa has three convenient quinceañera venues in Phoenix, AZ to accommodate parties of all types. We can host small, intimate gatherings or events with mile-long guest lists. Our quinceañera banquet halls comfortably hold 600 people, so feel free to invite even the most distant of cousins to celebrate such a unique occasion. Each setting features all of the latest amenities, beautifully-manicured grounds, and a welcoming staff whose members are passionate about making your event unforgettable. We are known for our careful attention to detail and friendly customer service. But our quinceañera venues are what set us apart. If your guest of honor wants to dance the night away, we will provide the dance floor. If you need a projector to display pictures or videos throughout the evening, we have that too. Let us know all of your wants and needs so that we can satisfy each one.
La Princesa Provides Party Rentals and Service Options
Once you have made the wise decision to hold a quinceañera at La Princesa in Phoenix, AZ, you will need to begin the rest of the party planning duties. We want to make sure everything goes smoothly, which is why we help jumpstart the process with party rentals and service options. Comfort and luxuriousness are staples of every good quinceañera, and we deliver both. Among our capabilities and amenities are:
Professional planning for your special day
Cushioned banquet seating to surround 60″ round tables
Dance floor
Elevated stage
Audio and video access to enable entertainment
Highly-trained and screened security staff
The services provided at our quinceañeras are not limited to what we have done in the past. Every quinceañera should be distinctive, so we are open to facilitating suggestions. If you have a unique idea or desire, bring it to our attention. We will do everything we can to make it happen.
We Will Liaise with Vendors to Make Your Quinceañera Easy
No party is complete without food, adornments, and entertainment. But you may not know where to even begin. La Princesa can help with this endeavor. Over the years, we have developed close relationships with a host of vendors in the area. We stage parties of all types and sizes on a daily basis, so we know high-quality resources when we see them. We will put you in touch with some of our trusted allies to help you get everything you need for the quinceañera you envision. Our reliable vendors can provide:
Cakes
Catering
Choreography
Decorations
DJs
Event coordination
Flowers
Mariachi
Photo booths
Photography and video
Service personnel
Transportation
However, if you already know what you want or have an established relationship with a vendor, we welcome it. La Princesa does not restrict outside vendors. We aim to be as accommodating as possible, so let us know when, how, and if we can help with amenities.
We Take Pride in Delivering a Memorable Experience
A quinceañera is not exclusively about coming of age, dressing fancy, celebrating with friends, or eating delicious foods. It is about the all-encompassing experience. That is what La Princesa delivers at our quinceañera banquet halls. The star of every party gets VIP treatment throughout the night to ensure it is an experience she and her friends will never forget. Our team delights in seeing the smiles and hearing the laughs of guests enjoying their time. After all, it is a once-in-a-lifetime event, so it should elicit a once-in-a-lifetime feeling.
Contact La Princesa to Plan a Quinceañera Today
La Princesa has three quinceañera venues conveniently located throughout Phoenix, AZ. We are aware of the importance of such an event in every young girl's life, so we strive to make each quinceañera unforgettable. We have been hosting parties of all varieties at our lavish banquet halls for almost 10 years, and our staff boasts decades' worth of collective experience. Our sole aim when you choose to have a quinceañera at one of our facilities is to make it as exceptional as possible. We lean on our expertise and passion for event planning and service-related work to exceed all of your expectations. It is a privilege to be trusted with organizing such an extravagant event at one of our quinceañera banquet halls, so we will never let you down. Contact us today to schedule a quinceañera in Phoenix, AZ.